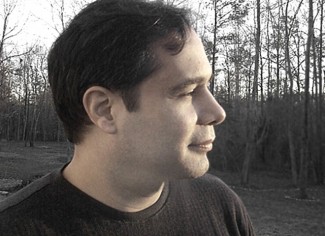 ---
Richard Anthony Peña is an independent visual artist quietly observing and capturing images of American landscapes and life.  His journey has spanned over nine geographical locations in the United States over the last thirty-seven years.  The references in the body of work can be biographical, social, and contextual, but his approach to image capture is purely incidental, intuitive, and by chance.  Words like real, natural, and beautiful describe his traditional work, while words like otherworldly, ethereal, and cognitive describe his abstract work.  Peña's explorations are of timeless, beautiful, and melancholy representations, visual testaments lionizing the end of the last century, and the beginning of this present century, with a lens towards the future.
The works on the piano have similar qualities; the musical phrases are purely incidental, intuitive, and by chance.  So the melodies on the keyboard are impromptu.  Creative instances that are one of a kind, interdependent on Peña's ability to create musical phrases in relationship from one phrase to another, spontaneously driven, with sensibilities invoking song cycles of rolling melodies of beauty and melancholy.  Peña grew up in New Mexico, where he developed his sense of exploration, curiosity, and imagination.  Peña graduated from the Kansas City Art Institute and School of Design and now resides in North Carolina.
Family History and Pedigree
Richard Anthony Peña's ancestry and lineage are traced to some of the oldest families in Hispanic America.  His paternal 6th Great Grandparents, Matheo Antonio Y'Barbo born in 1698 and Juana Luzgarda Hernandez born in 1705, both from Seville, Spain.  They were early arrivals in Los Adaes Presidio, the capital of Tejas on the northeastern frontier of New Spain from 1729 to 1770.  The site is located in present-day Natchitoches Parish, Louisiana, and now a national historic landmark.  Their son, Antonio Gil Y'Barbo, the founding the father of Nacogdoches Texas, and the appointed Lieutenant-Governor of the Nacogdoches district under the Spanish crown.  Richard Anthony Peña is a member of the Sons of the American Revolution and Sons of the Republic of Texas.
Peña's maternal side goes back to Juan de Oñate settlement of 1598 in New Mexico and connects him to almost every early New Mexico families of the Oñate settlement.  Oñate was born in the city of Zacatecas, México to Spanish-Basque parents.  His father was the conquistador, silver Baron Cristóbal de Oñate, a descendant of the noble house of Haro, and his mother Doña Catalina Salazar y de la Cadena, a descendant of a famous converso family, the Ha Levi.  Peña's maternal side is also composed of a rich Native American heritage.  About 80% of the marriages from the Oñate settlement consisted of males of European origins and females of Native American descent, as this was also true for Juan de Oñate himself.  Juan de Oñate married Isabel de Tolosa Cortés de Moctezuma, granddaughter of Hernán Cortés, the conqueror of the Triple Alliance, and great-granddaughter of the Aztec Emperor Moctezuma Xocoyotzin.
Genetic Identity and Ancestral Origins: 
53% European – 14% Middle Eastern – 29% New World
Y-DNA: R-Y23968 Haplogroup (4,200 YBP) – Ancient Branch of DF27 Iberian
mtDNA: A2h1 Haplogroup – Beringian – Clovis – Anzick
Original Paternal Surname: de la Peña – of the Rock, Crag, or Cliff  (Sephardim name)